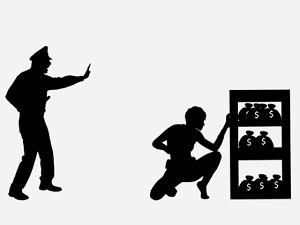 According to the US Federal Trade Commission, Americans lost nearly six billion dollars last year due to cybersecurity  fraud. This $5.8 billion loss was a dramatic 70 percent increase over the 2020 losses.
FTC has a huge database that contains millions of consumer records. This data is used to track information. According to statistics from the database, US consumers submitted 2,789 161 fraud reports in 2021. A quarter of these reported a loss in monetary terms.
The FTC spokeswoman had the following to say about the data
"Most of the consumer losses last year, over $2.3 billion, were due to imposter frauds. This is up from $1.2 billion in 2020. Online shopping, however, accounted for $392 million in reported losses by consumers. This is an increase from $246 million in 2020.
Younger people lost money 41% of the times they were victim to fraud. Older adults lost money just 17 percent of all the time. However, when they did lose money, the median was $1,500. This is three times as much as the median loss of younger people.
This problem's scale and scope is staggering. It's unlikely that we will see another 70% increase in US consumer spending this year, but the fact is that US consumers are now more at-risk than ever.
There is a good chance that you have already had conversations with your employees about internet safety or email security. Most likely, those conversations were about network security. It's understandable that this conversation has been about network security. However, it is important to have additional conversations on how to spot and avoid online scams.
You can be certain that scammers and hackers will always be looking for ways to exploit the unsuspecting. Do not let your family members, friends, and coworkers become victims. Keep an eye out for others.
Citibank Account Holders are Target of Phishing Email Attack
Are you a customer of Citibank? The bank's customers are being targeted by scammers
This campaign is convincing and emails appear just like company communications. All logos were copied and correctly positioned. The address of the sender looks genuine from first glance. The email message body does not contain typing mistakes, which is a standard indication of poorly executed phishing campaigns.
They may receive different content in the message. The phishing emails generally state that the recipient's bank account was put on hold because of a suspicious or a login attempt or transaction from a different location than where they would normally log in.
According to the email, the solution is easy. Protect your account by taking action now. To verify your account information, click the link provided and avoid a permanent suspension.
Phishing campaigns often use social engineering. This is a proven technique to create a sense of dire urgency in the communication.
Unfortunately, the email's recipient will be taken to a website that is controlled by the threat agents if they click the link. Although it appears to be an official Citibank portal it is not. Anyone who "verifies" their credentials by entering them into the capture boxes on the site will be giving their account information to scammers, who will quickly empty their accounts or max their credit cards.
The campaign targets users in the United States. Statistics show that 81% of recipients of these emails reside in the United States. Instead of clicking on embedded links in emails that appear to be from Citibank, you can call them directly or open a new tab and manually enter the URL. Don't trust embedded links.
Integrated Technology Systems can provide training for your staff that will cut down on unintended data breaches. Call us today for a complete assessment of your security practices. We can put together a plan to keep you secure from attack.
Integrated Technology Systems
6 East 45th Street, Suite 400
New York, NY 10017
212-750-5420