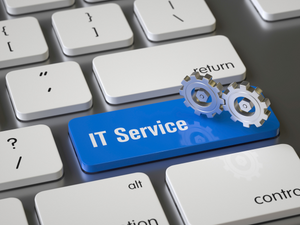 A managed IT provider may offer a range of services to companies, such as increased productivity, cost savings and enhanced cybersecurity. These services can help businesses
operate more efficiently
reduce IT expenses
enhance cybersecurity
gain access to professional advice.
The managed IT services can be customized to meet the specific needs of different companies.
Five top ways managed IT services can benefit your company
Managed IT services can improve efficiency by proactively monitoring and maintaining IT systems. This will allow your company to function more efficiently. Potential problems can be identified and addressed before they cause disruption to your business' operations. Access to IT experts can help you optimize your IT systems for maximum performance.
Cost savings: Training and hiring internal IT workers can be costly. Outsourcing your IT operations can help you cut down on costs. Managed IT services allow you to save money on hardware and software upfront by only paying for what you use. This can help lower total IT expenses and improve budget planning.
Protection is a top priority for all companies, regardless of size. Managed IT services can increase your IT security by providing frequent security updates and monitoring for potential threats. This will help protect your company from cyber-attacks and data breaches. These can be costly and can damage your reputation.
Expert guidance: Managed IT Services give you access to an expert team of IT professionals who can offer guidance on various IT-related topics. This is especially valuable for small businesses who may not be able to afford full-time IT staff.
You can customize managed IT services to fit your business's needs. This allows you to choose the support and services that are most appropriate for your business and budget. Contact Integrated Technology Systems for assistance with your IT strategy.
Social Media's Power for Business
Social media can be a powerful marketing tool for businesses. Social media is a great way to reach potential customers and grow your company.
It is crucial to create a social media plan before you can get started. This will allow you to identify your target audience, establish goals, and define your strategy. When creating a plan, there are some things you should consider:
Selecting the right social media platform: Different platforms target different audiences so it is important to choose the one that best suits your customers. LinkedIn, for example, is a great platform for B2B companies, while Instagram is popular to share visual content.
Setting goals: What are the social media marketing objectives you want to achieve? Common goals include increasing brand awareness, driving traffic and generating leads.
Develop a content strategy. Engaging and relevant content is the key to growing your following on social media. You should consider what content you are going to post and how often.
After you have established a strategy, it is time to start creating content. To grab your audience's attention, you should focus on creating visually appealing, educational, and valuable content. You can use videos, infographics, blogs and other media.
Paid advertising is another way to make your company's social media presence known. You can target specific demographics or interests through targeted advertising on Facebook, Instagram and LinkedIn. This is a cost-effective way to reach potential customers.
Social media can be a powerful marketing tool for businesses. Businesses that develop a social media marketing strategy, publish engaging content and use paid advertisements can reach a wider audience and grow their business. Small businesses could make a big impact by using social media to increase brand recognition and build client relationships.
Integrated Technology Systems works with Business Training Team to help you with your social media plan.
Integrated Technology Systems
6 East 45th Street, Suite 400
New York, NY 10017
212-750-5420
https://www.itsnyc.com